In the spring of 1989 Trishka was introduced to her first yoga class. The existential years as she called them, something she had been seeking was finally found: that feeling of existing in the body; that feeling of coming home; that feeling of naturally settling down… and settling in.
Dropping out of her head and into her heart, Trishka's yogic journey began, mostly bouncing from style to style at the beginning. Allured by all there was to offer, she dabbled in Iyengar Yoga, Ashtanga Yoga, Vinyasa Power Yoga, Bikram's Yoga, Anusara Yoga – to name a few.
Seeking, wanting, yearning everything that was out there, it wasn't until she settled, like a bee, into the nectar of Iyengar Yoga, that she tasted the juice and joy, depth and power of what this great man (BKS Iyengar) and practice has to offer, in here.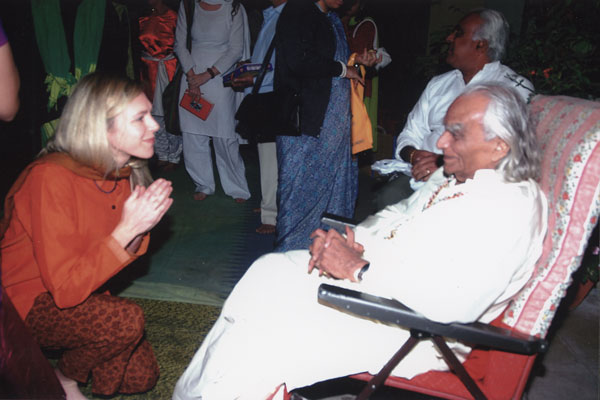 In May 1998, Trishka moved to Italy, taking only a yoga mat and one book, "Light on Yoga". Constrained by the limitations of the language, she found consolation on her mat with her book. She was a foreigner living abroad, but discovered that the interior landscape of her inner world was far more foreign to her, at the time, than the beautiful land of Italy.
So… she observed… she watched… and she taught herself yoga.
From 2003-2006 Trishka participated in the Iyengar Yoga Teacher Training program under the guidance of world renowned, Senior Iyengar Teacher, GABRIELLA GIUBILARO. She taught yoga in English to the foreigners and in Italian to the natives.
In the fall of 2006 she returned to her roots in Aspen, Colorado where she continues to teach and study yoga full time. Her on-going studies include:
Annual teacher trainings and intensives with her main, senior Iyengar teacher, MANOUSO MANOS
Annual advanced intensives with senior Iyengar teacher, PATRICIA WALDEN
Iyengar Yoga Conventions with, DR. GEETA IYENGAR
Four year therapeutics program (in depth study of the appendicluar skeleton, axial skeleton, the organic body and the nervous system) with STEPHANIE QUIRK